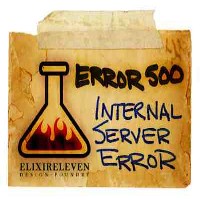 I received an HTTP 500 response from YouTube today after submitting a search for Shlomo (an excellent beatboxer and human voice percussionist) and received the cryptic error mesage below.
It looks like potentially sensitive debug data have been serialised and encrypted into the error page, but it's not immediately obvious why this is fed back to the user and not logged internally. Perhaps this error:
occurred in an isolated system component without write permission to persistent storage
is a trigger condition for a reroute from an overloaded component (possibly an aggregation service?)
is infrequent enough to be considered non-critical
is an undesired, undiagnosed emergent property of their architecture
is unexpected, consequently not routed to the correct engineer and mothballed
Whatever it is, there isn't any direction on how to contact the "highly trained monkeys" so most users won't bother. The error is either considered minor or unfixable.
Serving 2 billion videos a day is non-trivial, but for any site without such well-publicised architectural prowess giving users encrypted debug messages and no method to report them is considered bad form!
500 Internal Server Error Sorry, something went wrong. A team of highly trained monkeys has been dispatched to deal with this situation. If you see them, show them this information:

UOWacxCYxzsYHkLrZEkPJ42v33Rm1C1wn5HkrqJyEFGNk3WfVhFWNNNBnXif
PBdrNCrIESBIpTwnU8M1R3DMOew5Oz8CKKbgOM_HzNYITN09NXUAidiDBQ5a
0ZSK0S-qKr51QgiwuVU-D5Luof6lVbO37ec5N5yiOoTY_4uOSR8_aofoZNS6
NGu5e2AfuOefgFoi6oAF2szkUjebTZkRu6Sty3F1VWCdDEbKlu1nUTmwubGE
oEI-kRNhKrH9pWdb1D1AXLmD1cpKBgdLyUZkPZw0x9sj1uJaPoG_MkbcRggX
glS0FWsoKxmzLFOpuCw5vV1KWx2qtA5OHUhc4SFopbXbdt_2xAf6wLeX-INq
h_Mpy_I3U39wUdi0gCnTlQP6lOFlVY6j9oa4-Qoo3VB5qcKQPgNIRRcYExcv
OGJjBX1Y4dtku649z_HqQZ7aMPL-XnY0AGISfFhmqmlifBXyqJKccWViybTa
KOeAJglse94TgnlA_ZfWbqmUJqHQ4TZnS_5AMraiI6elzvk0NHoa7-ACj5X3
U7zMbfqsz-MLHTpBD0i84lG5mNsAbbEwiKOaE5mYyvFvGjV2nBLqfooHtmLG
nq6nbTAOSmA22ci3eKrsWahmyC1XA07zhihpwN8bnjU1WXMBIeImhaMgxXSb
YLg9yUzRoooHR245bqBfLo6FYOyl4ip8YV8vvzy4j-gl1EuCGdN63RGr1WLi
6jyqmIgnBN0aOQ3s9q9_wgcVMqkl_xNIG1NTWRtcaWQ42vh4GKDtgnUNB7F2
VVZJaztX2K_4CWGkkcs9a29Ep10OWJyoRXqy_AiFuIK7PVnHVcDFXJIpLhg0
YvVyhSdhOMeK3fe2gaoS-ZDbEBEZlj2iPpl01PWmP-jkCKBCtXe7um1jWIhg
alCsqFgJeu2kfPh2Z37n71568tNxDauE0tA5aK8fAdJSgUt2P3eSEBj1xsm0
XgOO07Xwm4NBexDKFmkx9lQq-oSBk0zCK35ELAPJ2dJkt-4VVOH54wxbXJIj
iRRZq0wSJtaa65v9EQLAzHg8XZOOVe5G5lIu9VL8iciQ5IoP4RK9bBXotEkG
jElPUoITJEw7o6_sh17hSd3eFpCkX982res3tFMh7vSkVGpw-o0eLSTnlcZm
EKmJCiTcqGBAdmoiFJ3e79BoJH5b84wCMDgr6vzjyFZmuzywJLuuVL61Xit1
9NlxLoBSNJ7klsD6-UqFC7zJu3Tij47lv9elsgPvvhCJMKcaMtKRO9bhBmTh
9ucAoKqR24lEQARzi6gYYvDyxv4U-4il7HLflAnIUUjrbFgx4pLYiVoNFxfo
8VlC-SbQbcJpZbsDqM3NiIXKs_zoOLYPITFxfM94MYBlvxI1rvYvbQtmaWcF
JE1DDs90IS9NZHMWIQ_YW9R1MHb_Zx_C4dalLPfqKrAitYydQuMhvuq4baPg
oPzt0zzl04azsAtHrhnWrGNzCf8AP9uMTx-pEXcRcUO3t_wtPXypDtuK_fBp
bEJAioBndGfpsD-XUO9NGdvfLJUgAELNy1m9Hz_6w7tQ-NlkAviAqPz0kYEt
AAboAZSjQDWOF5RK0p6kDdRfU3zqKMi9G_swc4S7EoN-sDwsPH7Pdp8y-wyg
fYqObTNry8_ldQ7pEM4AEKBvVh5QZMYijztA3S8Jco-wEKo-Lt2WG2JNQHNP
wMXtBJNp0M-hkHLQRzNrRdqObWU5OUvf88rjvQ7pDtui8KH4c7VnxIAYYxnu
1rXqZ0hdStTimt93WOGrS0-xf9nHtFgZ11gJTJwM1KII0nRnXEb4nP-hqkvU
8ifoTz-zougC-5UXTP3V7k_XCgpdbsuDNpfCv3V24H-d-WXZhWBz6R_j5ZdP
viV7SqnTCuqOzOqCZykb3t6Bcd30olshmfA6XYNxfTVI1EdLkihMXUArNCZV
xImCJfhpd_hoYlVy1XmXO6HTbnOobn8hXxDHWEu5OQzdIX-2sipGKC49_-60
M29bb18c060TZwhebR6BFhTDZd4BiH5ariv1hcMg1Ace-ClZzNM_GmRdK4va
1mjSjPt5XzobXyoGQqNw4JpSVag2r2P3WSQKGbjNc3HC0-9Fyg3zvft223Bt
rM_ACshW6YbTg4IJFKtmPnSWBECZJjIndGUpyYG8zotdHDcpl3OnceH8IKem
I_NY9gB-3o9o9U6qMf7HMLgzkL2nGdyPysdUFBM7BxYFZ0pZymg7VamZ6ckj
_YrVv-XzHsZdBRWZgqCMdWj75O_ufJqwAV12oRlTm99HtUW-NdmCCrVBgGIy
RF8nXd3PdHwopT-mHFR39xucPHS_UPFjTOZh6vUoLcYl64ot00YVjtMcKpmG
wFHc2SHv5GqVqVb4cRfUi6--3F_TwqxoyrTRhRBOp1wi87Pcl7ISc1We4wVN
EsFFe4J3rSzVGwcxLaX70XjYzUoV5RIoAGGh7ZX0BewbXotWRe1pGZ57BMve
liFcBPSIkrxsxDwKku6CJV4Q4SPZ9Q64xK6abfeW4p0k38HlEyxmb8JjwFOA
amXJWvcR0mFqe94SXwak9RDtZ1nRNY5JzIyjdMAa4WrcLWe53JZMeHjOkKcB
bspm4zTRnugkCZXdoJZohcKnlvPg20ISuRUvyFEj07dPA2Xvhtr_aUpfvOCo
EiVpoA0-2mGr7OIptFIC9l3oaOiHQdjdEPldpC8i_ufVc6lD8tjYvoqr0Klh
E1cQFqFU5FUuCdxRXyG165Ex0QMKDdMelAisbDyyDTXdpCRMiD0SD3zwG6ac
Gtk3xuj-1lZx9Q1_OytrEj8134JqYfhonArAvzC5FY8QFkHuq9b98ALsFfOP
QTutc3sMVPjIdxmGvZ1L4jVTPYkU98ZvrmDLMaS-0MEcCIj-hXUXKH2Vqlxd
K3hMJTqCRpv77XWUES57gWLQnAGg9VUVYJmeKCKLfTQWEeYLz6LqXaZuf_h_
QKlnjENZqJdu_H3Hh4brRlSXFYWReslG3elt2E3HGGkaVeH2Npfkbbn3_2Iq
KsmHyVoGqTCR76tCZUEliBnyCerVPc7G1PFe5uj1TMTa34mHGWIIG9eeTjCI
fMK90Z7evvkURGaJvsrSL8GntLKVhoFYFhjrzxE66H-47xOWMfe8yj7-tGcA
sgbDavUPm3_sfEXBOSWSmKSEYj0aEGUToncKpu_3VdGSOUD70tyf3nGYKfe_
E4xG8QTEO4EE-U6X-_1w_ffeE5xu9tS-2R-McufulvBW9IUDYWnLxzay1bRm
jdnt2zr_7GI-mewrbEtixOKUNmMaq3AlEgXdJ5Di5dsEh0gdCoaGUkYCowqR
FQJwfyAyNdv5P-nmlRHEYG_ZrpDozmCjRKB2serGFjpNpXSkYC5_HGEwIQpI
4i4jfX2LG9A_iVjzx_rDWSiS2Dzr-Gs2HmlaCldHIQjl4fU5NLBPktTQt0vh
owpAzHQxjTDqXZdc0pwEDPNiy5qJNs_uh-x-zNJra_gA4nQueB9jBOq7PZq8
bEIrEgVv